Our Vision
Downtown Centralia will rise as a model of historic preservation and economic revitalization and will be the heart of a thriving and engaged community.
Our Mission
The CDA unites and empowers residents, merchants, and civic leaders to promote, beautify, and develop a vibrant and prosperous downtown that celebrates its history and preserves its historic charm for all Centralians and visitors.
We are an accredited Washington State Main Street Community, a 501(c)3 dedicated to the preservation of our city's historic character.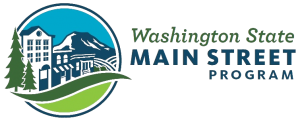 The Main Street Four Points Approach®
The Main Street Four Point Approach® is a national program focusing on the revitalization of downtown commercial business districts. This approach is used in over 1,200 cities across the nation and focuses on four volunteer-based integrated committees: Design, Economic Restructuring, Organization and Promotion. For further information about the program and the Eight Guiding Principles, visit the Washington Trust for Historic Preservation website.
2020/2021 Board Members
President: Jennifer Krueger
Past President: Jan Rockwell-Nontell
Vice President: Sarah Althauser
Treasurer: Muriel Wheatley
Secretary: Meja Handlen
Member at Large: Andrea Hess Culletto
Member at Large:Brenda Klawitter
Member at Large: Maritza Lopez
Member at Large: Holly Ryan
2019/2020 Partner Liaisons
City of Centralia Liaison: Elizabeth Cameron
Lewis County Liaison: Edna Fund
2019/2020 Committee Chairs
Economic Vitality: Open
Strengthening existing economic assets and diversifying the commercial district, by identifying potential market niches, finding new uses for vacant or underused spaces and improving business practices.
Promotion:  Tory Graf & Brenda Klawitter
Promoting the downtown commercial district in a positive manner, fostering community pride, social activity and economic development potential.  Advertising, special events and retail promotions, showcasing unique characteristics, businesses and activities not only to shoppers, but to potential investors and visitors.
Design: Sarah Althauser
Focuses on the physical assets: buildings, signs, window displays, landscaping, and environment, enhancing safety and sense of place.
Organization: Jan Rockwell-Nontell
Help manage the financial and logistical aspects of the CDA partnerships. That includes raising funds, recruiting volunteers, and conducting our annual sponsorship campaign.
If you would like to volunteer your time on a committee, make a donation, or become a partner Contact Us.
Our Values
Dedicated to the community-driven revitalization of our historic downtown, the Centralia Downtown Association believes:
we are stronger when we embrace the talents, ideas, innovation, and outlook of people of diverse backgrounds and cultural heritage;

a welcoming downtown is a safe place for visitors and customers regardless of race, nationality, sexual orientation, or religion;

when business owners feel safe, heard, and supported, storefronts remain occupied with the best in small business enterprises;

by working with local resources, we can compassionately address homelessness and other issues that may affect downtown;

in the importance of cooperation with public agencies, non-profits, businesses and individuals for the benefit of everyone in Centralia;

we must do everything in our power to make our community safe and healthy.